Fringe REVIEW: Brotipo - ★★★★★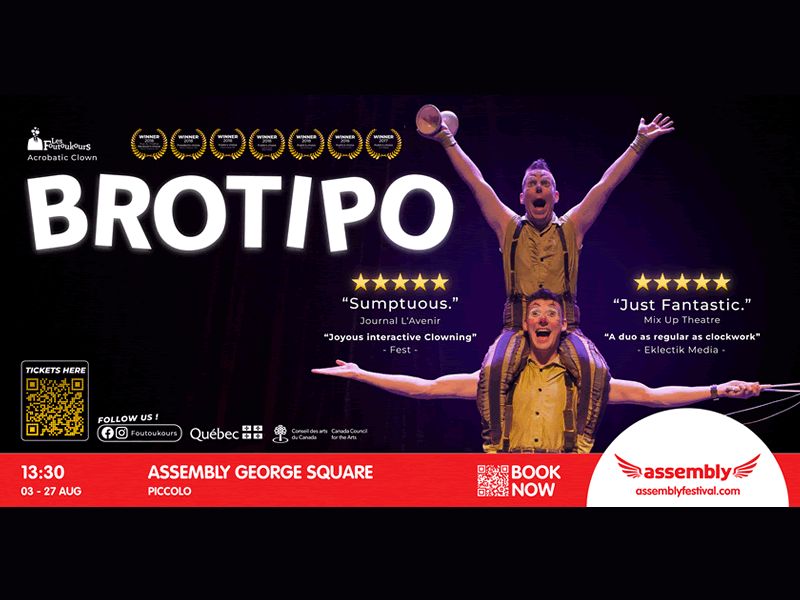 Welcome to the world of Quebec's circus clowns! Presented in 18 countries, winner of multiple awards, Brotipo is back this year! Before your eyes, a friendship will be put to the test to make you laugh, dance and even sing! In the colourful atmosphere of traditional big tops, the acrobatic duo creates a story with handstands, diabolo and hand-to-hand acts. An amazing chance to see the 'masters of slapstick' (Scotsman) again and again with the whole family!
Children's Shows (Circus / Clown)
Brotipo
Where?
Assembly George Square Gardens - Piccolo
When?
until 27th August, 13:30
Age? 5+
MIX UP REVIEWS: ★★★★★
Maddie (Age 9) - ★★★★★
"This is a great show. I love the two characters - one is really funny and the other more serious. I thought the engagement with the audience was brilliant like calling out when people went to the toilet. Not only is this really, really funny. I loved all the acrobatic elements and the funny one's dancing! It was great to see more of the show than we saw in our mix up theatre workshop."
Have you seen the show?...
Maddie met Les Foutoukours after the show!...
We had a brilliant workshop with Les Foutoukours at our Mix Up Theatre Fringe Festival Summer Camp!...
Make sure you have booked in for the latest DRAMA CLASSES at Mix Up Theatre throughout Scotland and Online :)